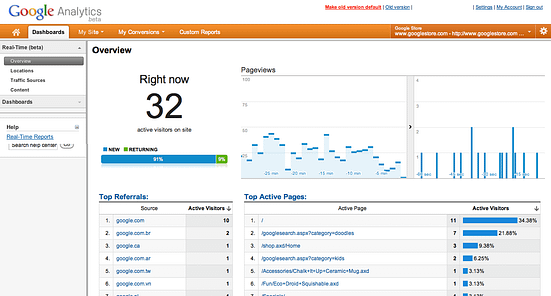 According to Mashable, Google is now providing real-time web traffic updates with its new product, Google Analytics Real-Time.
Although Real-Time is currently only available to a number of individuals, it will be released to the public soon in the new version of Google Analytics. Administrators with Analytics accounts will then get Real-Time reports that show how a campaign or individual ad is performing at that very moment. Real-Time is able to track the traffic to your site as it happens and deliver the valuable information to you.
Users will be able to measure the instant impact of their social media posts (whether or not their blogs, Facebook posts and Twitter tweets are driving traffic to the site immediately). Real-Time can also be used for campaign management (finding out whether their measurement tactics are working before you start sending traffic to your site.)
If you want to make sure you gain access to the New Google Analytics Real-Time, first update your account so you're using the newest version. If you haven't updated lately, there will be a link that says "New Version" in the top right of your screen. As soon as Real-Time is available to the public, the reports will be available in the Home tab.