Every year, David Mihm conducts a survey that asks some of the leading experts in local search to rank different factors that can impact a business's ranking on Google's local search results. While the findings are extremely helpful to those familiar with search engine optimization, they can be confusing to the average local business owner. This post breaks down the top 10 local search ranking factors into layman's terms. You can find the original report HERE.
1. Proper Category Associations
Categories associated with a Google Places page need to be relevant to the business. One of the ways Google knows if the category is relevant to the business is to crawl the site that is linked to that Google Places page and look for keywords that are associated with the chosen categories.
Example: If a Google Places page has Plumber and HVAC Service selected as categories then there needs to be a significant content relating to BOTH of those categories on the linked website. If content relates to only one category (or neither), then that business's ranking will suffer.
2. Physical Address in City of Search
A business's physical address must be in the city for which it is listed. Yes, sometimes a business can be found in searches for surrounding cities or towns but that is the exception, not the rule.
3. Consistency of Structured Citations
Structured citations are defined as a business's listing on online directories like Yelp, SuperPages, Merchant Circle, or others.  Thus, the business's information needs to be consistent across all structured citations. For the purposes of search engines business information is defined as: name, address and phone number (NAP). It can also include the business website. Consistency, often the format used for addresses, is defined as "exactly the same." If a Google+ Local page is listed as:
Express Auto Care
3540 Harbor Boulevard
Suite 305
Costa Mesa, CA 92626
It could cause some problems if its Yelp page is listed as:
Express Auto Care Service
3540 Harbor Blvd
Ste. 305
Costa Mesa, CA 92626
Between the two addresses listed above, there are three inconsistencies. Did you notice all of them?
4. Quality/Authority of Structured Citations
Again, a "structured citation" is a business's directory listing.
The quality of a citation refers to how well it's optimized – or completely filled out with relevant, keyword- rich content, and media (pictures & video, if applicable). If the directory provides a field for information, it should be filled out.
Generally speaking, the authority of a citation refers to how trustworthy Google believes that directory is. Below is a list of many authoritative citation sites:
5. HTML NAP Matching Place Page NAP
Sounds confusing but it's not. This simply means that the business name, address, and phone number (NAP) must:
Be displayed on the page of your website (in text – not in an image) that's linked to your Google Places page AND
Match exactly the way it's written on the Google+ Local page
6. Quantity of Structured Citations
Quantity of citations can be viewed like a popularity contest. The more directories a business is listed in, the better. Google likes to have sources that validate that a business does what it says it does on its Google Places page; this creates trust. If Google can find 10 trustworthy online directories for a business that verify the information on its Google+ Local page, then Google is more likely to display that business as a search result when compared to another business with fewer directory listings.
7. Domain Authority of Website
Just like Google wants to see authoritative citations for a business, it also likes to see an authoritative website linking to the business's Google Places page.
Click HERE for a free tool from moz.com that is used to check a website's authority. Any score over 40 would be considered desirable.
8. Individually Owner-verified Google+ Local page
Refers to a Google+ Local page for a business which has been claimed and PIN verified by someone from that business or by someone who is doing the SEO for that business. A verified listing is much more trustworthy than one that has not been verified.
9. City, State in Places Landing Page Title
The page on the local business's website (usually the homepage) that is linked to the Google+ Local page needs to have the "City, ST" in its title tag.
Title tags are created when a webmaster first creates a website or a new page on that website;
When writing a title tag for a page, it needs be relevant to the content on that page.
See below for a screenshot of a search performed on Google for "Dentist Los Angeles." It's not surprising to see that the letter "A" result is using this tactic on their website. You can view any page's title tag by hovering over that page's tab at the top of your browser (see mouse circled in red).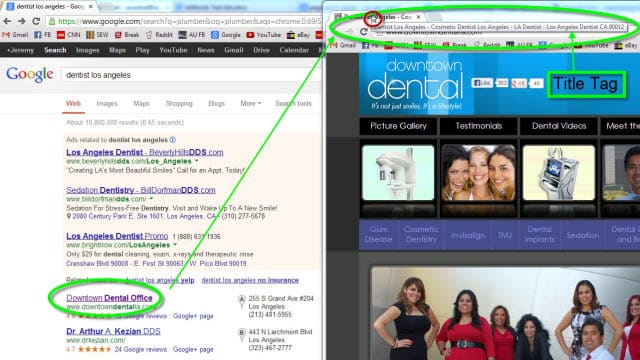 10. Proximity of Address to the Centroid
Google's centroid is defined as the geographical center of a city or town. The closer a business is to the centroid, the better chance it has to rank well for a search including that city name. When searching for "Painting Company Costa Mesa" the painting companies near the center of Costa Mesa stand a better chance of ranking well.
However, if the searcher is physically located in Costa Mesa, using only "Painting Company" will work fine. Google will use searchers physical location as a starting point for the search rather than the Costa Mesa centroid and the painting companies that are physically located close to searcher location will have an advantage.
If you are a local business owner and want to know more about the details of the local search ranking factors or simply want some more information on how we can help your business rank high on Google search results, give us a call at (877) 635-6225.