Why Should Your Business Be Listed in Yahoo! Local?
About 10% of all Internet users turn to Yahoo! when they need to find a local product/service. For this reason, being found in Yahoo! Local is crucial. Making sure you have a listing in this important local directory will increase the likelihood that potential customers searching for your products or services will choose to work with your business.
What does Yahoo! Local Offer?
With Yahoo! Local you can display your business address, phone number and website URL
Put your business in up to 5 categories in order to make it easier for potential customers to search and find you.
List products, services, brands and more in your Yahoo! Local listing.
Share photos that are relevant to your business
Customers who are Yahoo! users can write reviews about your business. These testimonials can encourage others to use your products or services who haven't before.
Yahoo! Local Business Listing Example: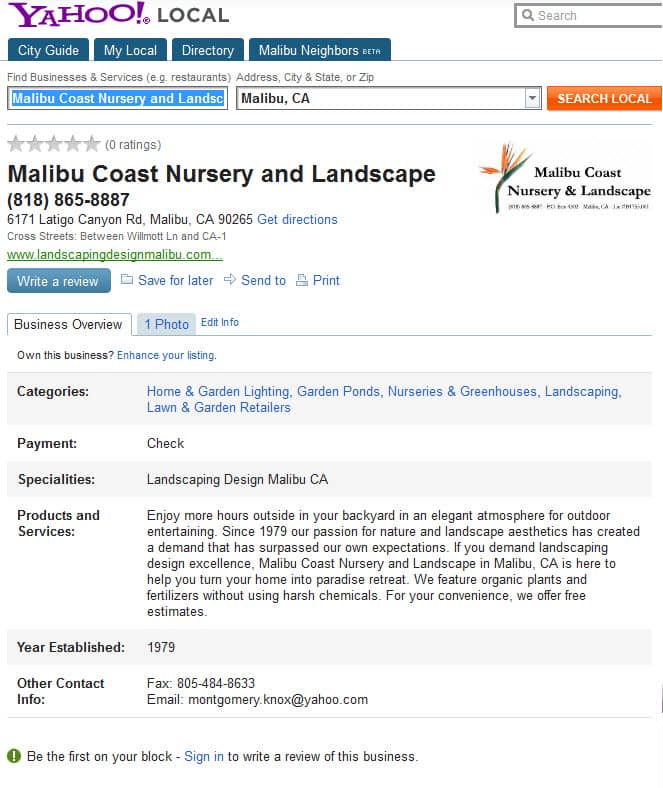 Enhanced Yahoo! Listings
Pay a monthly fee per location
Add up to 10 photos on your listing, a company tagline and a fully searchable long business description
Will receive two additional links to a website
View performance reports to tell you how many customers are seeing and acting on your listing.