DOES THIS LOOK FAMILIAR?
Imagine Your Company
Being the First Option
Position yourself as the first best option with Google Guaranteed Local Services Ads. Stay one step ahead of the competition and ensure customers see your business as the right choice to service their needs.
STOP WASTING YOUR TIME WITH UNQUALIFIED CUSTOMERS!
Google's Only Guaranteed Verifiable Lead
Google's Most Trusted
Small Business Partnerships
Earn the green check by qualifying to be admitted in the local service ads program. Google Guaranteed (GG) is the first of it's kind of pay-per-lead advertising platform that will refund you if the lead is invalid.

Stay Ahead Of the Competition
Beat your competition by always locking in the top spot position on the first page Google. Connect with people who search everyday for the services you offer locally.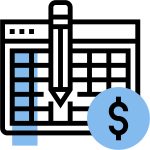 Quality vs Quantity
Keep your calendar full with jobs that are the most profitable. Choose when to work and whom you'd like to work with, and enjoy Google's most advanced customer success tracking system with profitability in mind.
Guaranteed Opportunities
The Assurance of Google's Quality Leads
Once the business is "Google Guaranteed," the green check mark Google Guaranteed badge will appear next to the company name in search result listings. Google backs the company and its services, which makes a better impression on potential clients.
WE KNOW SUCCESS
Trust The Experts