WE KNOW SUCCESS
Trust The Experts
We are Facebook Certified Digital Marketing Specialists through Facebook Blueprint.
What does it mean to be certified as a Digital Marketing Specialist? This certification means that you obtain true skill and knowledge in aspects of Facebook and Facebook Advertising. We have achieved a higher level of expertise in creating ad campaigns, managing ads as they run, and reporting on ads across Facebook.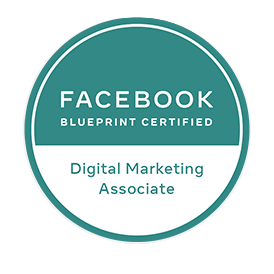 TARGETED ADVERTISING
How It Works

Customer Searches
for Keywords
Let the experts do the homework for you. Keywords are determined by Facebook and take into account a combination of ad features (ad text, product, category, title and description.)

Hyper Targeting of
Interested Buyers
Targeting for Facebook ads are based on your company's chosen people-based targeting options in addition to relevant search term keywords targeting your ads for buying customers.

Increase Sales
& Conversions
By selecting your ideal audience, the ads will drive people to visit your website, message you or give you a call. These actions will in return increase the number of sales and conversions!
TRANSPARENT ROI
Only Pay for Results
Our experts will customize your Facebook ads to directly reflect your company's goals. Facebook's tracking features will analyze actions taken on your Facebook ad, allowing you to only be charged from the desired result.
Join The 10,000+ Clients
Who Trust Us