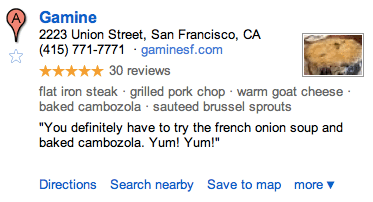 Many businesses run into problems when trying to gain customer reviews. It's difficult to get a lot of people to take the time to write a positive review when reviews are often only fueled by a negative experience. However, review sites like Yelp have encouraged people to write reviews (both positive and negative) to help the social community better understand a business location. Great reviews can not only help entice new customers to your location, they can also boost your search engine ranking. But how do you go about getting them? Here are 5 tips to help you do just that.
1. Email a follow up: Offer something like a percentage off your product or a small gift if your customer provides an email address. Once you have their email, you can send them a follow up email thanking them for stopping by your business location and asking them to write a review. Provide a link to your business on the review site of your choice to make it even easier for them.
2. Add reviews to your website: Letting people write reviews directly on your site simplifies the process, which means they're more likely to do it. Allowing people to write reviews directly on your site will also help your product pages rank higher because you'll always have fresh, unique content on them.
3. Give the people what they want: One key to getting more reviews is to actually listen to the reviews you receive. If people are constantly asking for a change in your product or service, make sure to give it to them. Once others see that your business actually values their customers' opinions, they'll be more likely to write a review of their own.
4. Window clings and receipts: Print a little blurb on each receipt you print asking your customer to write a review on Google or the other review site of your choice. Have a window cling or sticker made and put it somewhere people will see, like on the door of your establishment. The more you bring people's attention to writing a review, the more likely they'll be to do it.
5. Give away free samples. The more people trying out your product, the more people you'll have talking about it. Also, when you're asking people to do something, free stuff usually helps motivate them to do it.
Reviews can be extremely powerful and can often determine whether a potential customer chooses you over your competitor. However in order to get reviews, you must first make sure your business is listed in local business directories/review sites. Local Splash can make sure your business is listed and claimed. Find out more information about our directory submission services here.