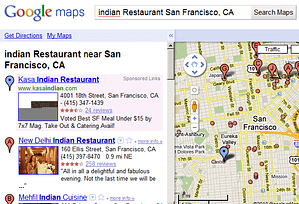 Local Business can now Get A Boost in Google Maps. Google announced a new method of sponsored advertising: Google Boost enables local businesses to place pay-per-click ads in Google Maps.
The Google Map blue-marker ads have been tested for years (as far back as 2006), however the previous ad units were charged a fixed monthly fee.
Google Boost is available exclusively to Verified Places already listed in Google Maps. Businesses can participate in the program with a click budget of $50 or more per month. Ranking of sponsored listings is competitive, so Boost likely follows an auction-style placement similar to Google Ads. Unlike Google Ads, the keywords are predefined. This is likely based on business classification as the Boost Ads do not appear when searching for the business by name. It is important to note that sponsored advertising does not affect organic ranking and traditional local SEO efforts are still necessary.
Google Boost Ads show above the organic Map listings (i.e., red-marker A, B, C…). These ads may eventually appear in standard Google results when Google determines the search to be local, though the program is rolling out gradually.
For more information, visit the Google support page on Boost Ads. Of interest, an example screen shot on the support page shows a modified Google search result page that exclusively displays businesses, places and a map.
The program is currently limited to San Francisco, Houston and Chicago. If and when more widely available, Boost will have a notable shift local ad spending.