Florist Internet Marketing
Florist Internet marketing increases leads and helps grow your business. Florists are highly creative individuals, creating stunning floral arrangements for every occasion. Surrounded by exotic flowers, the possibilities are unlimited and getting more customers is always a priority. While many floral shops have a good customer base from walk-ins and word of mouth, florist online marketing can drastically increase your customer base. Local Splash allows you to focus on running the business and creating sensational arrangements while we focus on the technical and logistical aspects of your florist Internet marketing campaign.
Local Splash is the leader in first page placement on major search engines. We help florists develop and manage an effective online marketing strategy. With years of experience, we are knowledgeable and trusted experts. With 97% of consumers using the web for local business information (BIA/Kelsey), it is more important than ever before to have an effective Internet marketing strategy.
Benefits of Florist Online Marketing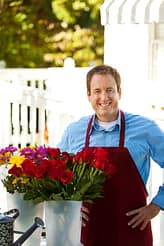 Because nearly all consumers use the web to find local businesses, it is essential they can find you when using search engines like Google. This is one of the most powerful ways you can promote your business. Appearing on the first page will greatly increase leads and the return on investment is higher than any other form of marketing.
Local Internet marketing for florists providers is complex; the search engine optimization and marketing strategy includes SEO copywriting and many technical skills. All aspects of the local florist Internet marketing campaign are managed by Local Splash.
Local Splash Provides a Fully Managed Solution
We provide a total Internet marketing solution for your floral shop. First, a client interview is conducted to learn about your objectives and formulate a plan of action. We then develop optimized content for your custom website and submission to online directories. On a weekly basis, we evaluate custom analytics and make updates to ensure optimum results for you.
Accurate business information must be listed in online directories so customers can find you. Local Splash submits your business information to online destinations as part of the Florist Internet marketing strategy: Google Places, Yahoo! Local, Facebook, Yelp, Acxiom, MerchantCircle, Superpages, YellowBot, About Us, RateItAll, Oodle, and RelevantYellow.
Successful local search engine optimization (SEO) and pay-per-click (PPC) requires a leader in florist online marketing. We are number one in getting local businesses on the first page. Research and development is a focus to maintain excellence for our customers. Our expert engineers have strong ties to the search engine industry to ensure we stay on the cutting edge.
Be Found on the first page of major search engines. Call today to discuss how we may assist with your florist Internet marketing needs.