SoCal SEO firm attracts national attention as #113 fastest-growing company in the country
FOUNTAIN VALLEY, Calif. (Sept. 01, 2010)—Local Splash, a local search engine optimization (SEO) firm that specializes in getting businesses listed in map and local organic search results, has indeed made a splash by earning a spot in Inc. magazine's annual ranking of revenue growth published in September's Inc. 500/5000 list. The company earned a #8 ranking for fastest-growing company in the Greater Los Angeles area, #14 for fastest-growing company in advertising and marketing, and #113 for fastest-growing company in America.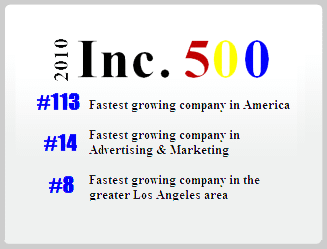 "We're the only company in the Inc. 500 that is primarily focused on maps and local organic search," says Steve Yeich, CEO of Local Splash. "Yellow Pages are in decline, and now more than ever, businesses are waking up to the fact that they need to get noticed in geography-based online searches. Local Splash was created to offer businesses a way to easily and cost-effectively achieve the visibility they need to survive and thrive in today's competitive online environment."
Local Splash sets itself apart from the SEO pack because it focuses on getting businesses listed in map and local organic search results. The company leverages Google, Yahoo!, Merchant Circle, Bing, Yelp, Facebook and other top local business directories to garner high Internet search rankings for its clients. Local Splash gathers information about each business location and then it is automatically distributed and updated on search engines and local directories across the Web, achieving exceptionally high online visibility for clients.
The company achieved 2,223% growth over the last 3 years and expects to continue this high-growth rate based on its honed ability to propel clients to the top of Internet search results.
"Local Splash helps companies get found in all the leading search engines and online local directories—plain and simple," says Dave Rodecker, Founder and CTO of Local Splash. "We're the first and only company to manage local business information on multiple platforms and make this important process affordable and accessible for companies of all sizes."
The company offers a full suite of services to place businesses in search results, including local maps, local organic, mobile, and local pay-per-click results. Their customers range from businesses with a single location to 800-site national chains.
Local Splash is committed to staying on the leading edge of technology and marketing best practices and has recently introduced value-added offerings. One is the company's Geotargeted Landing Pages, which delivers a unique URL incorporating the type and location of a business–e.g., www.PlumberInIrvine.com. Another is its local video ads product, which merges business information into short, keyword-enhanced video presentations that optimize search results. As part of the company's focus on social media, every new client gets a Facebook local business page page. Local Splash is also a leading mobile SEO provider, which gives clients high visibility with customers performing mobile device-based searches.
Local Splash also leads the local SEO industry with a legitimate guarantee. Clients not found on the first page of a major search engine in the first 6 weeks can suspend subsequent payment until Local Splash gets them there.
ABOUT LOCAL SPLASH: Local Splash is part of Relevant Ads, Inc. and is headquartered in Fountain Valley, California. Its proprietary technology and process secure high local search engine placement for local businesses and national chains with a local presence. To learn more about Local Splash and their local SEO services, visit localsplash.com.