Local Splash Recognized as #39 on the Deloitte Fast 500 List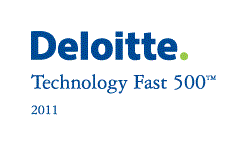 Local Splash ranked #39 out of 500 companies on the Deloitte Technology Fast 500 list.
Santa Ana, CA (October 20, 2011) – Local SEO service provider, Local Splash recently ranked #39 on the Technology Fast 500 list. Technology Fast 500 is an award program sponsored by Deloitte that recognizes 500 of the fastest growing technology, telecommunications, media, life sciences and clean technology companies in North America. The companies are ranked based on the percentage of fiscal year revenue growth from 2006 to 2010.
"We're excited to be recognized on the Technology Fast 500 list," said Local Splash CEO, Steve Yeich. "Ranking so high on the list, as the 39th company out of 500, is a great achievement because it means we are providing real value to our clients by getting their businesses in the first page of Internet search results. Every day we get new clients that are referred to us by existing clients—this is the greatest compliment of all and means we are doing things right."
Local Splash specializes in getting its clients (local businesses ranging from single-location businesses to national chains) on the first page of the most popular search engines: Google, Yahoo! and Bing. The company uses its proprietary technology to submit its clients' information to search engines and many different destinations on the Internet, earning them higher rankings so that their customers will find their businesses when searching online. Local Splash also works with many agencies and resellers, "powering" the local SEO services they provide to their clients.
"Getting local businesses found online is our business," said Yeich. "We work to make sure our clients are found in both the maps and organic search results on Google, Yahoo! and Bing to ensure maximum exposure that leads to increased sales. Local businesses today understand that they must be found in local search results in order to grow, or even survive—if you are a dentist in Newport Beach, you need to be found on the first page when someone types in 'dentist in Newport Beach.'"
Deloitte, the company behind the Technology Fast 500 list, is a brand that helps other businesses examine opportunities and address challenges in the following areas: accounting, assurance and advisory, risk, tax, strategy, financial, technology and human capital. According to the Deloitte website, "Deloitte teams work under the leadership of a lead client service partner to help businesses uncover opportunities and manage risks in ways that help their management create more value every step of the way."
At #39 on the Technology Fast 500 list, Local Splash has experienced 3501% growth over the past 4 years.
About Local Splash: Local SEO service provider, Local Splash, is headquartered in Santa Ana, California. Its proprietary technology and process secure high local search engine placement for single-location businesses and national chains with a local presence. To learn more about Local Splash and its local Internet marketing services, visit localsplash.com.