Extra Space Storage Utilizes Local Splash to Become Fastest Growing National Storage Company in Online Exposure
Situation:
There are nearly 50,000 self-storage facilities in the U.S. and they are owned by approximately 30,000 different companies. The competition is fierce. Extra Space Storage (ESS) is the second largest owner/operator of self-storage properties and is the largest self-storage management company in the U.S. with 871 locations.
Opportunity:
In the first quarter of 2008, Extra Space Storage was looking to increase total revenue and market share in the national self-storage market. They knew that consumers were increasingly using Internet search to find self-storage facilities. They also knew that their online presence was less than satisfactory and began to look for multiple avenues to increase their online exposure. Among their shortcomings in online presence was their lack of exposure in local search results. Extra Space Storage looked to Local Splash to utilize their proprietary and proven methods of improving ranking for local businesses.
Figure 1- Extra Space Storage ranking on the first page of Google search results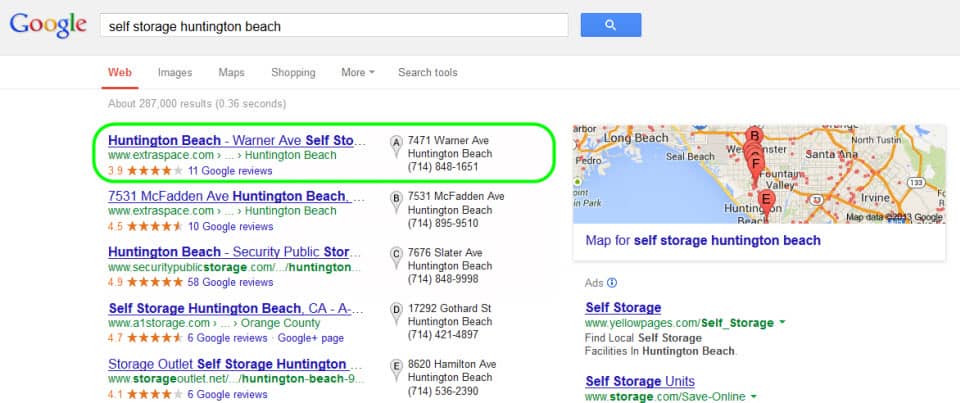 Solution:
To achieve high rankings, search engines must identify a business listing as being relevant and trusted. Local Splash accomplishes this using a number of proprietary technologies including:
An API between the client's database and the Local Splash system, so data on every location remains up to date
Automated search term relevancy and optimization tools based on high ranking competitor listings and the frequency of consumer search terms
Direct data feeds into Google Places, Yahoo! Local, Bing Local and dozens of online local business directories
Business data normalization and "translation" to formats required by search engines and business directories
Automated scalable processes that can add hundreds of locations in days
Experienced local SEO specialists who manually optimize challenging locations and listings
Local Splash identifies the most relevant keywords and the optimal categories to use for each individual listing in their specific geo-targeted area. This proprietary technology evaluates high-ranking competitors' keywords and categories as well as consumer search term frequency in order to optimize keywords and categories for each listing.
ESS provides data to Local Splash via an API. Local Splash then normalizes the data and sends it to Google Places, Yahoo! Local, Bing Local and other relevant local business directories. Local Splash's technology made verifying 871+ listings in Google Places and other partner sites quick and cost effective – manual submissions and verifications would have required tens of thousands of person-hours and would have been cost prohibitive.
Along with submitting directly to Google Places, Yahoo! Local and Bing Local, Local Splash submits business data on all 871 Extra Space Storage locations to dozens of other directories across the Web including: Yelp, About Us, Relevant Yellow, Rate It All, SuperPages, Merchant Circle, YellowBot, Acxiom, InfoGroup and Yext. Because Local Splash has the ability to update each of Extra Space Storage's individual location details monthly, ESS can rest assured that their information is always current and consistently seen by search engines as relevant and trusted. Relevancy and trust are among the most important factors when it comes to getting high rankings in local search results.
Results:
Extra Space Storage's locations were submitted and verified in the first quarter of 2008. Good ranking takes time, especially in a competitive market. ExtraSpace.com saw an increase in website traffic throughout 2008, and their traffic metrics continue to increase to this day.
Local Splash identifies challenging locations and provides additional manual optimization to locations that are not ranking well. Figure 2 shows the average ranking of all ESS locations, starting in 2008 when ESS first became a client of Local Splash and continuing to February 2012. The 871 ESS locations have an average rank of 2 in local search results due to the continuing automated and manual optimization provided by Local Splash.
Figure 2 – Average ESS Location Ranking on Google Local Search Results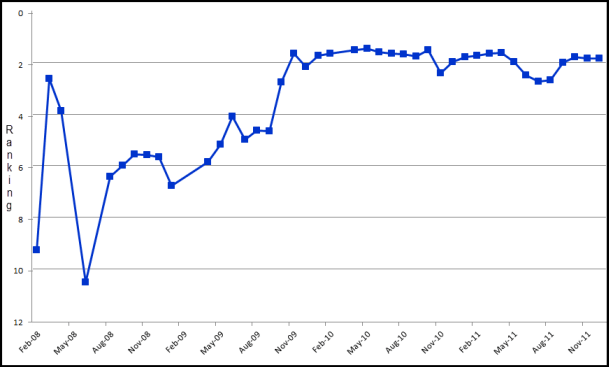 Over the years, Local Splash has dramatically reduced the time it takes to see improved ranking performance. When ESS first became a client in 2008, a new location would take an average of 50 days to see ranking improvement. Now Local Splash is able to produce improved ranking for new ESS locations in an average of just 24 days, with many facilities seeing an improvement in far less time. Figure three shows the average time it takes new ESS locations to see a boost in their rankings.
Figure 3 – Average Time for Ranking Improvement for New ESS Locations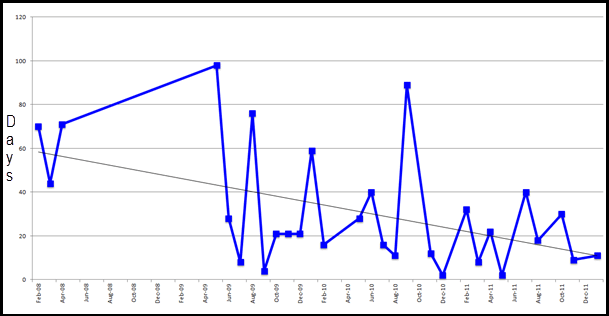 Local Splash provides ESS with daily "delta" reports that provide the current status of all 871 ESS locations on Google Places and Bing Local. Local Splash crawls the web for all 871 locations looking for inaccurate data, and if inaccuracies are identified they are corrected immediately. This ensures that all ESS locations and listings have accurate and consistent data across the web – this is critical to achieving high rankings in local search results.
Figure 4 – Google Places Tracking Data for ExtraSpace.com (02/2008 – 03/2011)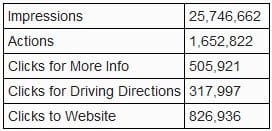 Concluding Remarks from Extra Space Storage
"Our partnership with Local Splash has been a huge success. More importantly, it has been a measurable success, and is one of our highest ROI marketing programs. Local Splash provides great tracking data so I can see exactly how well our online listings are performing. Four years ago, Extra Space Storage had a more limited local Internet presence. Today, our online exposure, specifically in local search, is growing at a faster rate than any of our competition. It is, in large part, Local Splash's proven methods and technology that we have to thank for our web exposure success!"
Scott Jensen
Director, Interactive Marketing
Extra Space Storage