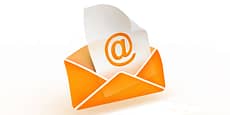 Visibility magazine recently wrote an article about the importance of email marketing and rules to follow when sending out your messages. Here are five email marketing techniques you should use when reaching out to your email subscribers.
1. Create an aesthetically-pleasing visual design. Every time customers receive an email from you they should know right away that it's from you because of the format and design. Always keep your design consistent so you don't confuse your subscribers and your message is remembered long after they're finished reading. Make sure your design is easy to read, consider colors, font sizes and offer plenty of white space and points of entry on the page so they can skim and read the full articles that they're really interested in.
2. Provide interesting content for your readers. Make sure the point of the email is very clear and ensure that the content is valuable. Keep your email short and avoid long paragraphs; people generally like to skim online. Use catchy headlines that will drive email opens and clicks. Shorter headlines are best.
3. Share your social media. Encourage your readers to find you on social media for more information and updates. According to a study by GetResponse, newsletters that have a social media sharing option have a 30% higher click-through rate than those that don't include sharing options.
4. Email your message at the right time. It's important to test the time of day you send your message as well as the day of the week. Sometimes a letter sent at the beginning of the day might not be as effective as one sent in the afternoon. Plan a day of the week and time that you think will best work for your clients and stick to it for every email message in the future.
5. Conduct tests. Test subject lines, time/frequency of delivery, text format, images vs. no images, design/layout, etc. to figure out what gets the best response from your target audience. Most email marketing systems will be able to provide you with this information.
Follow these tactics in order to send successful email marketing messages to your clients. Start driving customers to your website with the help of email marketing today.