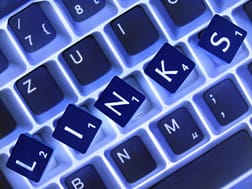 Link building is an important part of boosting your SEO and climbing to the top of the Google rankings. The more links leading back to your Website, the more people are likely to see your site and choose to do business with your company. Also, when search engines see that a business has a lot of links leading back to their Website, they view the business as more credible, thus rewarding the business with higher search engine rankings.
The higher ranking your listing can get in the Google results, the more business you will receive. As locals are searching for your services or products, your business will appear above your competitors and you will soon dominate the market in your area.
Why wouldn't you want to take advantage of all the link building strategies available to you? Here are the top 5 ways you can boost your back link numbers this year:
1. Write press releases. Writing and submitting press releases about your company's announcements, events, new product offerings, accomplishments, etc. will not only let your target audience know what's going on with your company, but it will also get you quality back links that last. It will cost your company some money to distribute your press release ($200-$300 at least) depending on which sites you choose and where you press release will be sent, but it is well worth it for the SEO boost press releases provide.
2. Utilize social media networks. Putting a link to your Website on your social media networks (Facebook Fan Page, Twitter, LinkedIn profile, YouTube videos, Foursquare, etc.) is a great (and free) way to boost your links. Also taking advantage of social bookmarking Websites such as Digg, Delicious, Reddit, Google Bookmarks, etc. also allows you to build links for free. Make sure to submit any press releases or videos to social bookmarking sites to maximize your SEO opportunities.
3. Get listed in quality directories. Local Splash submits your business listing to a variety of directories such as Google Places, Merchant Circle, SuperPages, Yahoo! Local, Yelp, etc. There are an endless amount of quality directories to list your business and most of them are free. Local Splash will also submit our clients to industry specific directories. For instance, Vast is a directory just for businesses in the auto and travel industry. Each directory your business is listed in provides one quality back link to your Website. Remember more quality back links equals better SEO and higher rankings.
4. Create a blog. If you don't already have a blog for your business, it's time for you to create one. Not only does a blog help you connect with your target audience and establish credibility within your industry, but it also helps with link building. Use keywords when writing and link those keywords to relevant pages on your Website. About 80% of blog visitors are first time visitors who found your blog when in search of specific information. That's a lot of first time visitors that could potentially check out your Website and in turn, become clients. The fact that blogging helps with link building is simply an added bonus.
5. Write and submit articles. Article writing and submission helps with creating an online image, building credibility for your business and link building. Write expert articles that deal with tips and tricks of the trade or industry news and include a short description summary of your business complete with URL at the end of every article. Then submit your article to directories such as Ezine Articles and Article Dashboard to boost your permanent links.
If you haven't begun working on link building for your Website, 2011 is the year to start. New Internet marketing techniques are developed every day and the power of marketing online is unlike any other. With the help of Local Splash, your business will be able to reach the top of the search engine page rankings in no time.