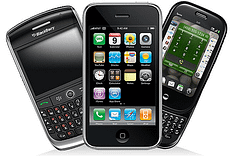 According to a recent article in Visibility magazine, 70% of the world's population now owns a mobile phone and more than 45% of the new mobile phone sales are smartphones. By 2014, mobile Internet usage is predicted to surpass desktop Internet usage, which is why mobile marketing is a crucial tactic to begin thinking about now. The Visibility magazine article outlined some tips for driving sales with mobile marketing, here are the top 5.
1. Create a mobile website. Create a mobile-friendly website design in order to provide a more user-friendly experience for your visitors. Have a clickable phone number at the top of each page so that visitors can call you at any time. Making it easy for them to call you will make it more likely that they will.
2. Direct users to your mobile website. Once you've created your mobile-friendly site design, it's important to add a script to your main website that redirects mobile visitors to the mobile version.
3. Create an iPhone app. Apps are a great advertising tool that will keep you on your customers' minds as they go through the purchase decision stages. An easy app to design is a "tip of the day" app. Make it free and include a daily notification so people remember to visit your app once it's on their phone.
4. Use QR codes. Use QR codes in offline advertising campaigns. Add them to flyers, magazine ads, window clings, etc. to allow mobile phone users to visit your site by scanning the QR code with their phone. The QR code can link to your website, Facebook fan page, a landing page or a call phone number.
5. Utilize Google Adwords for Mobile. Using Google Adwords, you can target your advertising to mobile phones. This means that people who are searching for your product or service on Google using their mobile phones will be able to see your ad. The mobile ads include a clickable phone number which make it fast and easy for users to contact you.
Local Splash can help you with your mobile marketing campaign. To learn more about our mobile services, visit our website.