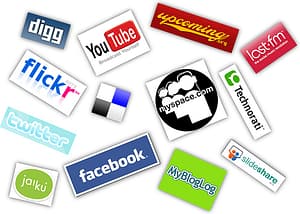 Social media is becoming more popular than ever and businesses are taking note. These days it's hard to find a business that isn't on Facebook or Twitter and there's a reason why. When used properly, Facebook, Twitter and YouTube can be powerful resources for business. These networks provide a direct line of communication to your customer and target audience and help with brand recognition, customer loyalty and customer satisfaction. So if you still think social media is just a pointless way to waste time, read on to find out how social media can help you get the attention of new customers and keep current customers happy.
Social media helps increase brand recognition. Since most of the population is already going to social media sites like Facebook, Twitter and YouTube, getting your brand name across those networks lets people know you're around. If you haven't begun creating an image for your brand, social media is a great place to start. You can do this by creating a fun YouTube video that entertains as well as informs and making your Facebook and Twitter pages into energetic online communities where your target audience can share with each other and your company. Social networks are meant to be places were people can, just as the name suggests, be social. This means that when one person becomes a fan and starts interacting on your page, their "friends" or "followers" will notice. This will help build your online community and in turn, increase your customer base and bring in more sales.
Social media helps build customer loyalty. Making your social media network a place where your target audience feels comfortable and entertained will make them more apt to do business with your company rather than your competition. People like to interact with other people or friends, not a big corporation. That's why it's important that your business speak in a more casual tone on your social media network. Humanizing your company will make people feel more comfortable which will make them more likely to trust and interact with your company. Then when your "fans" need your service or product, they will likely become more than just fans, they will become valuable customers. These customers can then recommend your business to others as well as become returning customers in the future.
Social media helps improve customer satisfaction. Social media networks allow for your company to directly interact with customers. Customers can post questions or concerns on your social media network and the company can answer them in a timely manner. This not only improves customer service and satisfaction, but it also saves your company money on long distance customer service phone calls. Social media also provides a forum for customers to voice their opinions on new or existing products. Also you will be able to ask them for suggestions to improve your product or service to better suit their needs. After all, you are in business because of your customers, so it is important to keep them happy by serving them the best way possible.
The power of social media can help your business in many ways. Whether you need to attract new customers or keep your currently customers happy, these techniques can help you grow your business and increase your profit. See below for an example of how one brand (Pura Vida Bracelets) is connecting with its customers on social media network, Facebook.