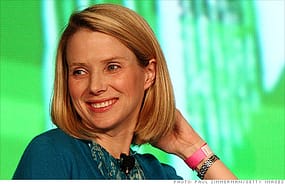 According to Business Insider, Yahoo! CEO, Marissa Mayer, recently warned shareholders that she might not return the $4 billion Yahoo is going to get selling its stake in Chinese Internet company, Alibaba.
The original plans included returning the after-tax money to shareholders. However, according to an SEC filing, Mayer is currently reviewing the plans for the money, which may lead to changes to the current plans:
"On July 17, 2012, Marissa Mayer became the Chief Executive Officer and a member of the Board of Directors of Yahoo! Inc. (the "Company"). As reported in our Form 10-Q for the quarter ended June 30, 2012 filed today with the Securities and Exchange Commission, Ms. Mayer is engaging in a review of the Company's business strategy to enhance long term shareholder value. As part of that review, Ms. Mayer intends to review with the Board of Directors, among other things, the Company's growth and acquisition strategy, the restructuring plan we began implementing in the second quarter of 2012, and the Company's cash position and planned capital allocation strategy. This review process may lead to a reevaluation of, or changes to, our current plans, including our restructuring plan, our share repurchase program, and our previously announced plans for returning to shareholders substantially all of the after tax cash proceeds of the initial share repurchase under the Share Repurchase and Preference Share Sale Agreement we entered into on May 20, 2012 with Alibaba Group Holding Limited."
Mayer's move suggests that she plans to use the money toward something that will help breathe new life into the company. Perhaps buying a start up that will help with their social, local, mobile efforts. What do you think?