For maximum web traffic, submitting your business to Google for placement in their search results requires much more than simply requesting inclusion. There's a mathematical formula behind everything Google displays. In this tutorial, we will help you understand exactly what it takes to rank higher in Google Local Business Center (GLBC) for search terms that could generate more leads and sales for you from Google's search results pages.
Ranking Factors
Content is King
Having great content themed around, but not stuffed, with search terms that your prospects are querying to find your business is key. Even if you rank high now, without good quality content, Google will eventually penalize you for having a high bounce rate from their search results, or worse, if users vote/review your business negatively as a result of poor content.
For a local business, it's important to include your business address and phone number in the global footer of your website, near the copyright (or anywhere really), to correlate with the other websites (and the GLBC) that share your business information. There are two critical fields on every page of your website that should have service-related keywords in them: The HTML Title Tag and the H1 Heading Tag. Both should be different, but contain the keyword someone in the context.
Example of a Good HTML Title:
Call Joe's Plumbing in Anaheim, CA for Fast, Quality Service
GLBC Categories and Details
As you start filling out your Google Local Business Center listing, you'll notice several fields. We at Local Splash literally live our lives mining the best content to put into these fields to support our goal of ranking higher.
If you want to rank higher in the GLBC, you'll need to do some research. First of all, you'll want to spend some time in the free Google Keyword Tool for Google Ads to determine which keywords hold the highest search volume and directly correlate to your service (don't use the term SEO if you sell SEO Services, use the term SEO Services instead).
Next, spend some time querying for the terms you believe will drive the best results from Google then analyze the categories of the companies that come up in the Google Local Business Center for those terms (pay attention to the order of the categories). Our leading-edge technology automates this process for you, insuring your categories are set and recalibrated continuously. This has been known to drive your competitors absolutely crazy.
Snapshot of the results our program produces for the best categories around the search query "local seo services":
Details are important; just don't stuff your profile with keywords. Work to get 100 percent completeness in Google Local Business Center. Videos, images, and so forth are all important. Our team of Local SEO Experts have already defined the best possible fields for hundreds of common industries, which explains why so many of our new customers come from referrals from happy customers.
Websites / Web References
As with Organic Search Engine Optimization, local SEO requires visibility (aka: links and mention) from other related websites on the Internet. The best place to get that visibility is from individual profile pages on other local-related websites (ie: Superpages.com, Clush.com, Yelp.com, Yahoo! Local, MerchantCircle.com, and so forth). Done with a little SEO magic, those profiles pass a "vote" to your website with verbatim business data, reinforcing your website's creditability with the search engines.
If you didn't get all that, just remember: The more other websites discuss your website in a way that influences the search engines to better understand your topic (also called "service tag" in the local SEO world), the more likely Google will be to reward your website with higher ranking.
User Reviews and User Content
We have seen a number of businesses rank higher than a business with dozens of reviews. So before you get nervous about the importance of reviews; keep in mind that this focal point is not the most critical ranking criteria.
That being said, a listing with more reviews is more likely to be clicked on than a listing with no reviews. Encourage your store visitors to post reviews, offer an online coupon that starts with instructions on how to review the business in Google Local Business Center. Capture email addresses for repeat customers and ask for reviews in periodic newsletters and offer emails.
Scrutinize Google Local Business Center Traffic Statistics
Once you've verified your listing, or have had us verify your listing with you, use the data in the GLBC to see if your business profile is appearing for the search terms you are targeting. The Google Local Business Center offers some incredible data, including Impressions (how many time your listing appeared for a query) and Clicks (how many times a searcher clicked on the listing to read more).
See a Screenshot Below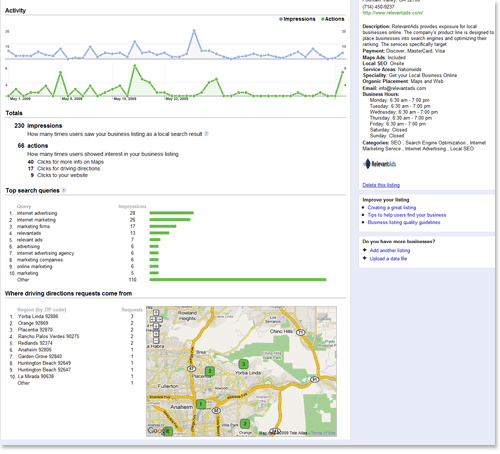 Our Local SEO Account Specialists spend an exhaustive amount of time trying to understand the GLBC traffic statistics to insure that our customers are appearing for the best possible keywords. Our Local SEO moguls (we like to call them "SEO Scientists") analyze this data across thousands of accounts to create formulations and best practices, all of which are integrated into our leading edge local SEO applications.
Save Time and Money with Local Splash
The good news is that anyone can do their own search engine optimization using the strategies and techniques mentioned above. The bad news is that the time it will take for someone new to local SEO is a lot longer than you might think. Worse, for these techniques to sustain longevity, they need to be repeated month after month, meaning every month you'll have to spend more time researching new destinations and insuring that you are using the right details in your GLBC profile and so forth.
Put your local SEO on autopilot with Local Splash. Our program is affordable and will save you valuable hours that you could be applying to running your business. Let our pros and our leading edge software handle your local search engine marketing, so that you can go back to business as usual while we help you rank higher in the Google Local Business Center. Call today at 877-635-6225 for more information or click Sign Up Now above.