Google recently sent emails to many business owners notifying them that their Google Places information will be updated. The email (pictured below) shows the information that will be found on the updated Google Places page and urges business owners to log in to their Google Places account if the information presented is incorrect. At Local Splash, we keep our clients' business information updated; however some of our clients still received this email. We were also puzzled by how Google obtained our customers' personal email addresses that were never publicized. In order to answer these questions, we did some research and came up with the following possible explanations:
1. Google only sent the email to business owners who have some difference in phone number or address normalization (i.e. "1001 North Filmore Street" vs "1001 N Filmore St.") We think Google prefers the unabbreviated names like "street," "road" and "avenue" rather than their abbreviations.
2. Google is trying to reach the actual business owners, which is why it sent the email directly to our clients rather than to us. However, we have never publicized our clients' real email addresses. This leads us to believe that Google was working with a Core Data Provider (Acxiom, InfoUSA, Localeze) in order to obtain this information.
3. Google's email message was intended to target businesses that have claimed/verified listings only.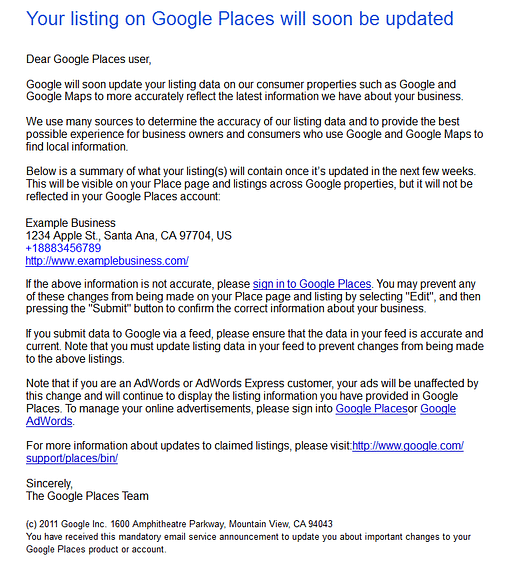 We are interested to hear your thoughts. Why do you think Google decided to send out this email?