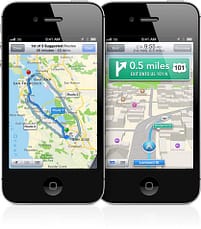 At today's San Francisco iPhone 5 launch event, Apple revealed a thinner, faster iPhone equipped with Apple Maps/local search, Siri enhancements and other updates.
The new iPhone 5 will be the first iPhone to feature Apple Maps instead of Google Maps. Apple Maps could have a significant impact on local search if the application's user experience proves to be a good one. If Apple Maps is successful, it could take a large piece of Google's local search traffic on the iPhone. However, the user experience of Apple Maps is still to-be-determined. Apple revealed that the new iPhone 5 features enhancements to Siri, which could mean more people will be using Siri to perform searches rather than Google.
Apple Maps will feature turn-by-turn voice navigation and will have real-time traffic data available. This means as traffic conditions change, alternative routes will be offered to the user. One feature that is exclusive to Apple Maps is the "flyover" feature which includes 3-D images that were taken by helicopters as they flew over major cities.
What did you think of the new iPhone 5 and Apple Maps? Will you be trading in your iPhone 4s or Android phone for the slimmer, faster iPhone 5?