"…Once she ran the deposit, she sent over the INVOICE and it was ANOTHER 200 dollar more than what she quoted me…I filed a BBB complaint and am disputing the deposit charges."
Would you believe the snippet of the review above was taken from a gourmet taco company with an almost 5-star rating and 98 reviews? Would you believe me if I told you that this review was marked "Useful" 14 times by Yelpers? If I told you that the owner responded to this negative review in order to improve his business performance– would you begin to feel Yelp is untrustworthy?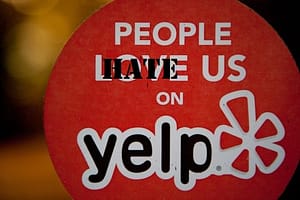 Yelp has been labeled a "complete and utter fraud," by business owners. Conspiracies about Yelp hiding reviews and other malicious activity have been reported in many articles in recent years. With so much loathing felt toward America's popular local business directory site, how is it viewed by consumers? More importantly, what does Yelp have to say about all this?
Business Owners vs. Yelp
Many complaints were expressed by business owners in several cases. One case involved Yelp filtering reviews.
Bai Thong Thai, holding a 3 out of 5 star rating on its listing, explained how Yelp hid positive reviews and was told by Yelp that if the business paid to do advertising with Yelp, this would not have happened.
Yelp spokesperson, Kristen Whisenand, said there is no amount of money anyone can pay Yelp to manipulate the reviews. She also mentioned that Yelp's filtering system protects consumers by screening out phony postings. Yelp's algorithm was developed so businesses would not post fake reviews to deceive consumers.
Another case involved Yelp in connection with extorting business owners for ad money. A local business owner of AVA Salon & Spa in Washington D.C. believed that Yelp filtered its reviews because the owner refused to advertise with Yelp. Yelp begged to differ.
"This is completely untrue. There is no correlation between advertising and reviews on Yelp," said Vince Sollotto, Yelp's Vice President for Corporate Communications.  He later explained how anyone can browse a business listing that is advertising with Yelp and see negative reviews displayed, as well as tons of other businesses that are not advertising with Yelp that are carrying four or five star ratings.
A study by Michael Luca from Harvard Business School and Georgios Zervas from Yale University used data collected over three years to parse Yelp reviews.
Luca, Assistant Professor of Business Administration at Harvard, found that after studying a set of restaurants that advertise on Yelp, determined those businesses have reviews filtered in the same manner as restaurants that are not advertising on Yelp.
Another example of Yelp's questionable approach involves advertising on a competitor's Yelp listing. Supino Pizzeria in Detroit, MI (carrying a five-star rating) featured a review on its listing. Unfortunately, the first review seen on its listing was for another business, Green Zone Pizza in Grosse Pointe, MI (which has three stars) which pays Yelp for ads.  Is this one of Yelp's schemes or just another advertising tactic?
Local Business Owners Chime In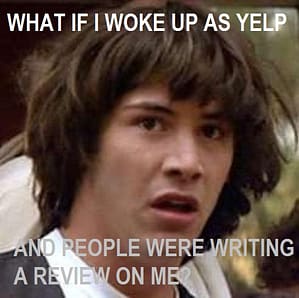 With a hefty share of business owners dissatisfied with Yelp, there are also a handful of businesses which find the site useful for industry-specific marketing.
Brian Hansen, a Real Estate Agent, and Matt Cheah, Marketing Director for , both find Yelp an excellent source for restaurant reviews and getting leads.
"Yelp is clearly more important for food and high traffic businesses with clients that make smaller purchases. It provides a medium for happy clients to express their feedback, and even if we just get one client from it over the lifetime of the company, I would still consider it worth it," said Cheah.
Real People. Real Reviews.
Enough with the brash comments from business owners! What do the mass of Yelpers have to say?
Many Yelp users agreed that the star rating for each business is probably the number one deceiving factor for a company.
Teddy-Allen Aguilar, who has been Yelping since 2010, said the star ratings may be misleading due to a few disappointed customers. However, the "hard-core" and loyal Yelper believes that Yelp is positive overall.
Thomas Pritchard, a recently registered Yelper has been using Yelp to discover new restaurants conveniently located to his home as well as finding mouthwatering, taste buds-dancing delights. He agrees that Yelp is fairly accurate but it is not perfect in all aspects.
"There are a few places with low ratings that I believe should be in the four star range.  Therefore, I think the ratings should be taken with a grain of salt," said the Mexican-food-aficionado.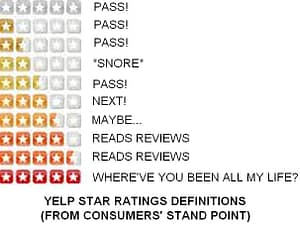 With the countless, slander-filled statements discussed by business owners, consumers do see a method to these business owners' madness.
Ian Kennedy, also a veteran Yelper, and Aguilar shared their opinions on why business owners are completely irked by the review site.
"Negative reviews can hurt new businesses. However, there is a reason why it is happening. There are always going to be people who are not happy with a business, no matter how professional the business conducts itself," said Kennedy.
Yelping for three and a half years now, Aguilar believes businesses harbor a strong resentment and irritation towards Yelp.
"I remember one time when a business owner asked me to write an excellent five star Yelp review for his auto body collision center just to cover up the previous negative salty reviews left by previously disappointed customers. It was amusing that he would even ask me to," Aguilar laughed.
Aguilar admitted later that he did not leave a fake review.
Don't Be Bitter. Be Better.
Don't forget: a Yelp listing is default sorted by "Yelp's Sort". This Yelp sort is determined by recency, user votes, and other factors. Users can filter the reviews by date, rating, and elites. Also, remember to read the reviews, do not just glance at the number of star ratings. We should all arrive at a consensus that those stars shine too bright (or not) to see clearly. Reviews carry a more substantial argument.
This is also noteworthy: Businesses cannot satisfy everyone. Even a five star business, such as the taco gourmet company mentioned earlier, cannot proudly wear the "1-star of shame" review. A business should be responsible for keeping up their reputation and their brand. Listen to your potential fans, unhappy customers, or first-time buyers; they will provide great insight. Respond to their concerns – present a mature demeanor – for your business, especially since the responses are displayed publicly.
Yelp holds power with consumers and businesses alike. While business owners try to protect their business' reputation, Yelpers still want to have a tasteful meal at the end of day – along with exceptional service. We are talking about different types of Yelpers: the needy, the picky, the  former server who expects decent to excellent service, the sushi-snob, the auto repair shop connoisseur, and the Greek food guru. First Amendment – it's probably the most useful weapon one can use. Best advice as a business owner? Give consumers a taste of their own medicine – respond back to their negative reviews!