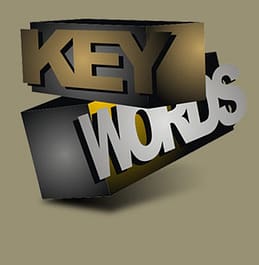 The keywords you choose to use while optimizing your business information for local search are extremely important. The right keywords can boost your business to the first page of Google while the wrong keywords can ensure that no one from your target audience ever sees your company information. Don't have the slightest clue of how to begin choosing keywords for your business? Here are some tips for beginners on how to choose the right keywords.
Know your customer well enough to predict how they communicate. What are some words that your customers use in speech and writing? Pay attention to how your customers communicate in order to spot keywords. Put yourself in your customers' shoes. If they were searching for your business, what keywords would they search for?
Use the Google Wonder Wheel. Type in a keyword phrase in the Google Wonder Wheel and you'll be provided with more keywords similar to that one. It's great for getting new ideas and helping to inspire more creative keywords that you might not have thought about using before.
Use the Google Adwords keyword tool to see the competition for each keyword. When a keyword is more competitive, it means more people are optimizing for the phrase. This means it will be harder to rank on the first page of the search engines for it. Try to focus your efforts on optimizing keywords with less competition. You can also use the Google Adwords tool to find out whether the keywords you want to optimize for are being searched for. The best pairing would be to find a keyword phrase with low competition and high searches.
Come up with long tail keywords if you are in a more competitive market. These are longer keywords that are more specific to your business. For example if you are a beauty salon in Long Beach, CA, a long tail keyword for you could be "curly hair stylist long beach." Since this keyword phrase is so focused, less people will think to go after it, which makes it more likely for your business to show up on the first page of the search results if you optimize for it. It's also good to think outside of the box and cover all the possible keywords your clients could be searching for.
These tips will help you during the process of choosing keywords to use when optimizing your website and business listings for search engines. Once you've established which keywords you want to use, use them everywhere; on your site, blogs, social media networks, business listings as well as when link building and social bookmarking, and more. Local Splash can help you choose the right keywords and optimize your business listing to enhance your online presence today.