Have you called Local Splash with questions?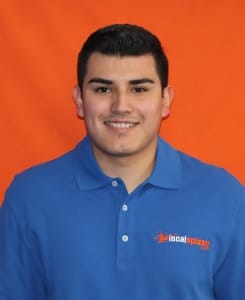 If you are a Local Splash client, you may have spoken to Jose Castro or one of his associates. Together, they make up Client Support. Every member of the team is an experienced SEO certified expert. Their focus is:
Client satisfaction
Client account completion
Client information accuracy
Staying atop SEO best practices and tactics
Ensuring our client's return on investment

The goal of Client Support is to provide each and every client with an excellent experience: helpful, informative and friendly. Whether it's a simple matter of updating information or answering detailed questions about Custom Website Design or Google Ads pay-per-click campaigns, Jose and his team pride themselves on going above and beyond fulfilling a basic client request.
A Southern California native, Jose was a year-round athlete at Segerstrom High: a varsity team captain in soccer, wide receiver in football and holder of the school record for the 200 meter dash.
He still hits the gym on weekends, but his weekdays are filled with Local Splash and most of his evenings are spent as a Business Administration student at Cal State Fullerton. However, he does indulge in the occasional marathon of The Walking Dead.
Client Support Specialists perform a variety of tasks when speaking with our clients, including:
Ensuring a client has the proper placements in online directories
Verifying a client's search engine results
Recording any changes to the client's location information
Recording any changes to the client's keywords
Providing advice on a client's SEO efforts
Jose and his associates do their best to demystify SEO for our clients, sharing recent technology developments such as the growing impact of online reviews in search engine rankings. If you have any questions, give them a call at 877-635-6225, option 1.