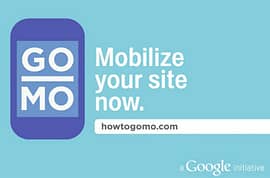 According to the Google Mobile Ads Blog, Google recently launched an initiative called "GoMo," which is meant to help businesses make the transition to mobile easier. GoMo is short for "go mobile" and is designed to help businesses that have a mobile presence set up, but are having trouble with it.
Many times, businesses make the transition to mobile to find that their website does not translate well onto smart phones. This can cause frustrated customers to migrate away from your site; something business owners do not want. The Google Mobile Ads Blog directs users to HowToGoMo, which shows them how their site looks on a mobile phone as well as provides resources to help build their website.
"Every day more and more of your customers are looking for you…on mobile devices," wrote Jesse Haines, Google Mobile Ads Marketing team member. "If you don't have a site that works for mobile, you're missing out."
According to Google, 61% of users are unlikely to return to a site that's not mobile-friendly. However, when a site is built for mobile, customer engagement increases by 85%.
More for details read the full blog post on the Google Mobile Ads Blog.