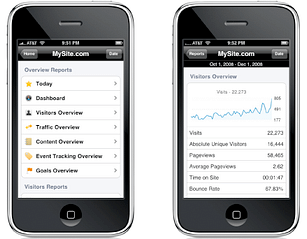 We just received our Monthly Product Update from Google Analytics and thought it would be a great idea to share what's new with our readers. This month, Google is focusing on integrating more mobile tools into Analytics. There's a new Analytics App that allows users to view their Analytics account from their mobile phones as well as a new tool to measure the success of your Mobile Apps.
Google Analytics App for Android: This app allows you to access the same accounts you can from your desktop browser on your mobile phone. Now you can check out your Analytics reports on-the-go.
Mobile App Analytics: This new tools allows mobile developers and marketers to measure metrics such as new/active users, engagement metrics such as visitor flow, loyalty and app crashes and outcome metrics such as goal conversions and in-app purchases. This tool will help mobile developers create better apps that their customers will respond to.
Intelligence Alerts: These alerts are now in your Google Analytics dashboard. Gone are the days you must click on the Intelligence tab or check your email to see your alerts.
Browser Size Analysis: Find out what your users are actually seeing "above the fold" on your website with this new tool. This will allow you to tweak the design of your homepage to ensure your customers are seeing the most important aspects of the page.