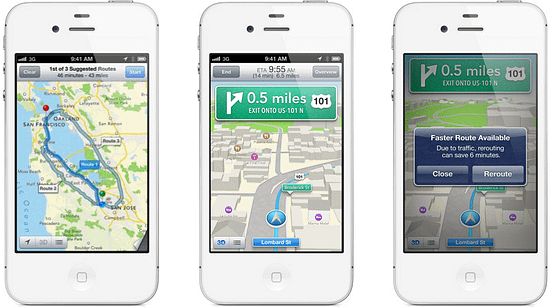 According to TUAW.com, the new Maps application in iOS 6 Gold Master has changed drastically… for the worse. Former TUAW writer and founder of Rocky Mountain Mac Repair, Josh Carr, reported that the new application performs poorly and "is a tremendous step backwards and something that cripples iOS for Apple's customers."
Carr reported that the once-Google-powered keyword search has been replaced by Yelp. Users are now limited to Yelp's database which isn't as large as Google's and they must search using Yelp's exact categories. This severely limits the businesses that show up in search. Previously, Google Maps keyword searches for businesses or restaurants would show tons of local business names and points of interest; according to Carr, that isn't the case with the new Apple Maps.
According to the comments below the TUAW article, other users agree. One person calls Apple Maps "a horrible mess" while another person commented "the search functionality is horrid." However, not everyone thinks Apple Maps is step backward. One commenter wrote, "I completely disagree. I installed iOS 6 GM and used the new Maps app all weekend and was blown away at how well it worked and how much nicer the user experience was."
We're interested in your opinion! If you've tried the new Maps application, what did you think of it?