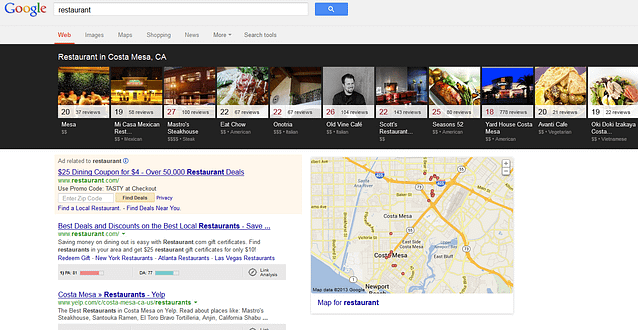 There has been lots of talk about Google's new local carousel in the local search community lately.  Most of this talk centers on strategy and less on how to trigger a carousel search. Internally we have been wrestling with a couple of questions:
1) How broad has the carousel rollout been?
2) Is the carousel the future for local search?
How many verticals has Carousel affected?
There were numerous early answers to this question, particularly this list created via live query research by Adam Dorfman of SIM Partners. Besides the specific queries that cause a local carousel to trigger, Mike Blumenthal did some quick research and determined that in order for a carousel to trigger, the query has to return at least five results.
Anybody who knows me knows I am data driven, so Dave Rodecker and I talked about using our existing crawlers and large database of clients to see if we could figure out some really specific queries that trigger carousel results.
Methodology
One of the quirks of the carousel is that when it triggers, there is no pack result triggered as well. Luckily, thanks to our technology team, our crawlers are able to distinguish between different pieces of a Google SERP so we can see which search queries trigger what types of vertical and universal search features. We compiled a list of queries from recent crawls that triggered carousel results. We verified these were carousel queries by checking to see if a Places result was also triggered, then we spot checked several of them with live searches. Here is a list of queries that we know are currently triggering carousel results:
Accommodations
Adult Entertainment Club
American Food Catering
American Restaurant
American Restaurant Fremont CA
Amusement Center
Art Gallery
Auditorium
Authentic French Cuisine
Authentic French Restaurant
Banquet Hall
Barbecue Catering
Barbecue Catering San Diego CA
BBQ Ribs Restaurant
Beach Motel
Beach Resort
Beachfront Weddings
Bed & Breakfast
Boat Charter Service
Box Lunch Supplier
Brunch Restaurant
Butcher Shop
Cakes
Campground
Campgrounds
Caterer
Caterers
Catering
Catering Service
Catering Services
Children Entertainment
Children's Entertainment
Clowns
Cocktail Bar
Coffee Shop
Conference Center
Corporate Caterer
Corporate Catering
corporate fishing charters
Custom Cake Designer
Dance Company
Deep Sea Charters
Deep Sea Fishing
Deep Sea Fishing Charters
Deli
Deli Catering Service
Delicatessen Counter Services
Dive Instructor
DJ
Dog Friendly Restaurant
Entertainment Agency
Event Caterer
Event Catering
Event Planner
Event Room
Event Venue
Charter Fishing
Family Fishing Trips
Family Restaurant
Fine Art
Fine Dining Restaurant
Fishing
Fishing Area
Fishing Charter
Fishing Charters
Fishing Store
Fishing Supplies
Fishing Tours
Food Catering
Food Store
Ft. Lauderdale Steaks
Gluten Free Produce Store
Grocery Store
Guitar Instructor
Home Stlye Cooking
Honey Shop
Horse Boarding Stable
Horse Riding School
Hotel
Hunting Club
Indian Grocery Store
Indoor Party Place
Inn
Italian American Catering
Italian American Restaurants
Italian Catering
Italian Delivery Restaurant
Italian Food Caterer
Italian Food Delivery
Italian Food Restaurant
Italian Food Restaurants
Italian Pizza Restaurants
Kids Entertainment
Live Music
Local BBQ restaurant
Local Diver Tours
Local Produce Store
Lodge
Lodging
Lodgings
Luxury Hotel
Magic Shows
Magician
Maui Scuba Diving
Meeting Caterer
Mexican Bar & Grill
Mexican Takeout Restaurant
Mobile DJ Service
Motel
Motel Ronan
Music Instruction
Music Instructor
Music Lessons
Music School
Music Studio
Musical Instrument Rental Service
Musical Instrument Repair Shop
Musical Instrument Store
Natural Foods Store
Overnight Fishing Charters
party painter
Party Venue
Photography Gallery
Piano Classes
Piano Instruction
Piano Instructor
Piano Lessons
Piano Repair Service
Piano Repairs
Piano Restoration
Piano School
Piano Service
Piano Tuner
Piano Tuning Service
Pizza Catering
Pizza Delivery Restaurant
Pizza Delivery Restaurants
Pizza Takeout
Private Chef
Professional Recording Studio
Psychic
Psychic Medium
Psychic Reader
Psychic Readings
Recording Studio
Restaurant Bakery
Resort
Restaurant Bakery
Saltwater Fishing
SCUBA Tour Agency
Sightseeing Tour Agency
South American Restaurant
Sport Fishing
Sport Fishing Charters
Sportfishing
Sports Fishing
Steakhouse Restaurant
Supermarket
Surf City Motel
Tarot Card Reader
Tarot Psychic
Tarot Readings
Thai Takeout
Tourist Attraction
Tourist Information Center
Used Musical Instrument Store
Wedding Bakery
Wedding Caterer
Wedding Caterers
Wedding Ceremonys
Wedding Chapel
Wedding Planner
Wedding Receptions
Wedding Venue
Wine Bar
Obviously, this list is not comprehensive; it is limited to our client list. We do hope to unleash our crawlers with a more robust mission in the future.
Takeaways
This list reveals queries triggering Google's local carousel spreads across many more verticals than many people, myself included, initially thought. It runs the gamut from professional services (wedding planner) to the more traditional food and beverage industry queries that everyone knows about, to the hyper specific i.e. piano tuner. Seeing the extensive number of queries triggering carousel results leads me to think this may be a live beta that Google is testing for user experience and value before rolling it out to more verticals over time. Are there any other odd queries or verticals that you see triggering carousel results? If so, I would love to hear of them.