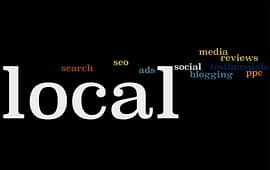 If you're a local business owner trying to make a name for yourself online, local search engine optimization (SEO) is what's going to help you do it. Want people to find your business in the search results instead of your competitors? Here are 5 quick local SEO tips that you can use to help make that happen.
1. Complete your Google Place page. Claiming your business's Google Places page then completely filling out all the information, including all five videos, all 10 photos, business hours, payment options, contact information, etc. will drastically improve your search rankings.
2. Make sure you have a physical address in the city you want to be found for. Businesses that are physically located in the city searched for have the best chance of ranking for keywords in their city. Chances of ranking well in surrounding areas decrease significantly unless you have a Google Adwords pay-per-click advertising campaign.
3. Submit your business to local directories. The more local directories your business is found in, the more chances you have to be found on page one of Google, Yahoo! and Bing search engines. Make sure your business appears in directories like Yelp, Facebook, Merchant Circle and more.
4. Encourage your customers to write reviews. Google takes into account how many reviews your business receives and whether or not they are positive. Gaining many positive reviews will boost your search engine ranking significantly.
5. Keep your business information consistent. Even so much as having your street address written using "St." in one directory and "Street" in another can hurt your rankings. Search engines like to see clear, consistent information, which means inconsistent business information can hurt your rankings drastically. When submitting your business to directories or claiming your business, make sure you are always using the same format to write your business name, address and phone number to avoid this.
Need help with your local SEO campaign? Get some help from the local SEO experts at Local Splash. Check out our services today.