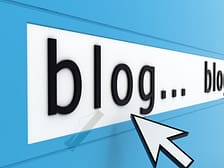 If you're a B2B company and you haven't dipped a toe in the social media pool yet, one great place to start is blogging. Blogging not only shows your company's personality and sets it apart from other businesses, but it can also provide keyword-rich content to the search engines in order to boost your website's page rank. Want to create an awesome blog for your company? Follow these 5 tips for B2B blogging.
1. Blog from your website. Blogging from your own domain is more search engine friendly because it provides regularly updated content for your website. Search engines are more likely to come back and index your site when the content is fresh, which means higher rankings for you.
2. Use keywords in your blog titles. Figure out keywords that potential readers may use to find your blog post and use them in the title and sprinkled throughout the body of your blog. This will make your posts more searchable and will help your blog and website rank higher in the search engines.
3. Provide quality information that is interesting and educational. Making sure your readers will be interested and will benefit from your blog post ensures that they're more likely to share it with others. They're also more likely to come back and read more posts in the future. As they're reading your blogs, they'll build more trust and loyalty toward your company and will be more likely to do business with you in the future.
4. Break up the text in your posts. People don't usually read online, they scan. People will scan through the different headlines of a blog post and read the parts that seem most interesting to them. When you're writing your blogs, make sure to break up the text with headlines as you to separate and organize ideas, rather than typing one post in one long paragraph.
5. End each post with a Call to Action. Does your company offer a service similar to what you're blogging about? Are you writing about a specific event, promotion or company announcement? Let your readers know what your company can do for them with a short Call to Action sentence at the end of your post.