Yesterday, Google rolled out Google+ Local, Google's integration of Google+ and Google Places. According to the Google and Your Business Blog, Google+ Local's aim is to "improve the way people discover new businesses, rediscover places they love and share them with their friends across the Web."
Google Places pages will soon be replaced by Google+ business pages with a new design and layout (see photo). In the new design, all of the basic business information is still present, however there is more emphasis put on photos and reviews. On many business listings, the user will be able to go a step further using the "street view" option on Google Maps and even venture inside the actual business location.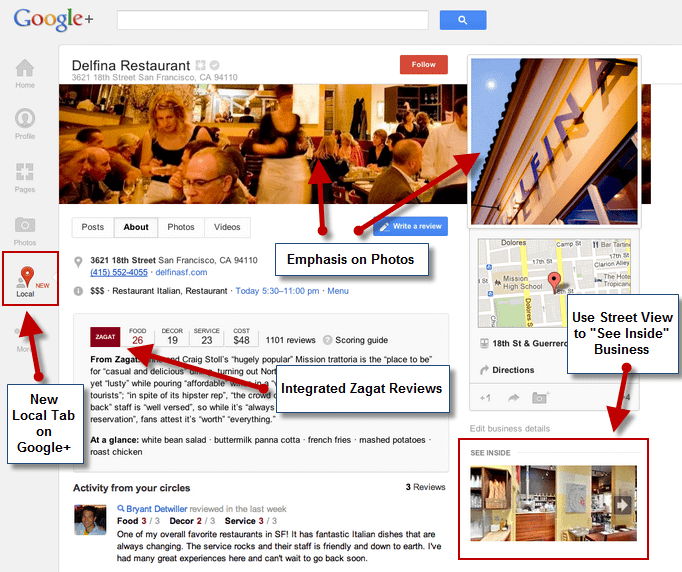 Now local businesses will be found across Google search, Maps, mobile and Google+ with just one listing. Customers will be able to share their experience with others through reviews and recommend businesses to friends. Google+ Local has integrated Zagat reviews in order to allow users to share exactly what makes a particular business stand out.
"This is a major upgrade in user interface and there are new features and capabilities as well there may be some lost or modified facets such as Google Posts and maybe Offers," said Local Splash Founder and CTO, David Rodecker. "More details will be determined as Google evolves Google+ and adapts to user social patterns."
Right now, business owners can still manage their business information in Google Places for Business. If your Places page is already ranked high in the search results the best way to ensure your rankings stay intact is to stay on top of the changes being made to your listing and create a Google+ page for your business if you haven't already.
Local Splash clients have nothing to fear. Local Splash has the resources it takes to understand the impact of a change like this and determine what adaptations need to be taken to keep clients ranking well.
"We have anticipated a move like this for some time and we have positioned our clients quite well for the transition," said Rodecker. "Currently, search results on the typical Google Everything search are unchanged and the Google Places algorithm runs strong in this user interface; something we already optimize for."
Want more information on the Google+ Local release? Check out this round-up of articles on Google+ Local on Screenwerk.com.