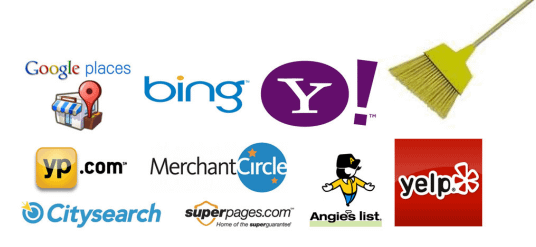 If your
Google listing
is claimed and verified, but you still aren't climbing the rankings like you had hoped you would, it may be duplicate or incorrect listings around the web that are holding you back. Cleaning up these listings can help you boost your rankings to the first page of Google. "Cleaning up" your listings is another way of saying, updating your listings to make sure they are consistent throughout the web.
First, you must identify the problem. Search for your business name on Google and check out the results that pop up. You will likely see a result for your Google+ Local listing as well as other local directory listings. If your business has been around a while, chances are it's in a lot of directories that you may not even know about. These listings are unclaimed and unverified, so they are in danger of having incorrect or inconsistent information. When the information about your business around the web is inconsistent, Google has less trust in the business and will penalize it with lower rankings. This is why it's important to find out where your business information is on the web and gain control of it by claiming and verifying listings.
Explore the listings and claim and verify each one. This can be done usually by clicking a button that says "manage this page" or "is this your business?" the exact wording varies from directory to directory. Edit these listings to make sure they have the correct address, phone number and other business information. Remember, the more information that is filled out, the more trustworthy the listing becomes. While editing addresses, remember, 1234 Harbor Blvd. is not the same as 1234 Harbor Boulevard. Although they are the same place, because boulevard is spelled out in one and abbreviated in another, Google sees it as an inconsistency and it will affect your rankings in a negative way.
Cleaning up your listings can be time consuming, especially if you have more than one business location. Local SEO companies like Local Splash can clean up your listings for you, so you have more time to focus on your customers.