If your company wants to boost your search engine rankings, try video optimization. There is much more text on the Web than videos. This means if you have an optimized video it is more likely to show up on the first page of Google when potential customers are searching for keywords that pertain to your business. If you create a funny, entertaining or informational video that your potential customers share with friends, your video will become even more relevant and more likely to show up high in the search results. So how do you optimize your video for search engines? Follow these directions.
1. Save your video to your computer with a file name that includes your business name and a keyword (E.g., Dave's Kung Fu Dojo Newport Beach, CA)
2. Open the Properties of the video by right clicking on the file
3. Select the Summary tab at the top of the Properties box
4. Add business name, categories and keywords to the image – these will be picked up by search engines (if you need visual help with steps 1-4, check out our photo optimization blog.)
5. If you don't already have one, create a YouTube account and add the video to YouTube
6. Choose "Upload" to begin uploading your video. While it is uploading, you can fill in the information box (See image below)
7. Now share your fully-optimized video on your blog, company Facebook page, Google+ page, Twitter, Pinterest, and any other social media networks you belong to.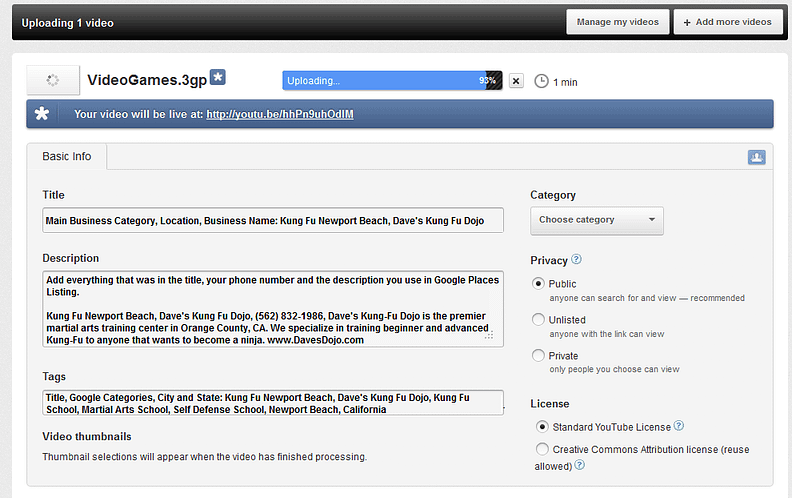 Title: Add Main business category, location, business name
Description: Add everything that was in the title, your phone number and the description you use in Google Places listing
Tags: Title, Google categories, city and state