Get a Special Badge to make your Google Places Listing stand out.
Today, while submitting a test Google Places listing I noticed a new feature just below the categories section.   For a limited time only, if you are showing the world cup at your place of business, Google will give you a special badge that will make your listing stand out.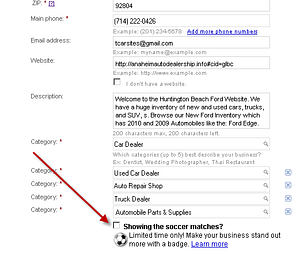 That badge might look like a small soccer ball icon or it might be something else, who knows.  For more information please visit http://www.google.com/landing/showfootball/info.html Click on the image for a large picture view.
But hurry!  This is a limited time offer from Google.