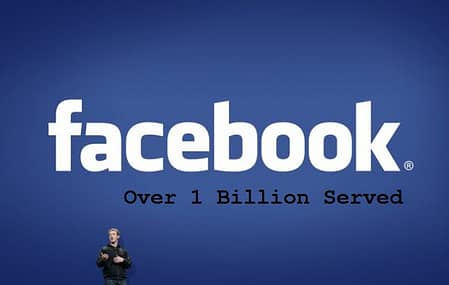 One million users isn't cool.  You know what's cool? A billion users.
Social network, Facebook, just exceeded 1 billion users. The announcement came today from Facebook Co-founder and CEO, Mark Zuckerberg.
"Helping a billion people connect is amazing, humbling and by far the thing I am most proud of in my life," said Zuckerberg of reaching the milestone.
According to CNN, it took Facebook six years to get 500 million users. Less than two years later, the company has hit the 1 billion mark; not too bad for a company that got its start in a college dorm room.
What does Facebook have in store for the future? According to Zuckerberg, the company is focusing on improving the mobile experience of its users. Half of Facebook's users access the site at least once a month from their mobile device and over 100 million users only log into Facebook from their mobile device. Zuckerberg says that mobile "is the future," which is why they are focusing on perfecting the mobile Facebook application.
Are you one of Facebook's billion users?