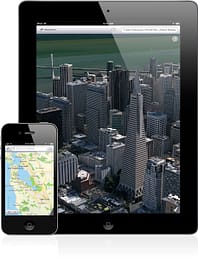 According to an article on ScreenWerk.com, Apple has partnered with the following companies in order to gather data for its new Maps application:
TomTom
Acxiom
CoreLogic
DigitalGlobe
DMTI
Getchee
Intermap
LeadDog
Localeze
MapData Sciences Pty Ltd.
MDA Information Systems, Inc.
Urban Mapping
Waze
Yelp
ScreenWerk.com got this information from a copyright page. Are there any data providers that you know about that are missing from this list? There will be more information to come about Apple Maps as it becomes available so stay tuned!