For about a month now, I have been getting an odd message when I try to access the "Edit Details" Mapmaker page directly from the Google Places listing of a SAB. A sad face tells me that the page won't load and that they've tried everything.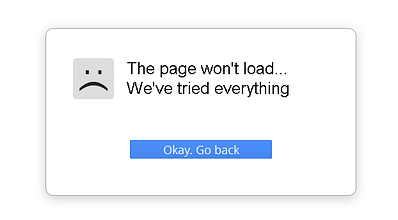 It appears that Google has removed all SAB's from Mapmaker. Any listing that hides its address cannot be found via the Mapmaker interface in Places or in Mapmaker itself. This may be a new effort by Google to separate the process of searching for SABs and storefront businesses, and it may provide a solution to the slew of problems we've recently faced with SABs. First we had the problem of SAB addresses showing in Mapmaker despite being hidden in the dashboard, and after that we experienced many businesses showing their addresses on Maps even though they had checked "Hide My Address" in the dashboard.
This possible 'solution,' however, may create just as many problems. With the community edit page transformed into Mapmaker earlier this year, there is now no way to edit your business details other than using the Places dashboard, which is unreliable and slow at best. A recommended practice for now would be to submit a Google troubleshooting form to deal with any problems you may have. You can complete this form, writing out any problems you have in detail, and you even have the option of calling Google phone support. Phone support may be a much faster method of getting your listing information fixed if you are the business owner. If you are managing someone else's listing though, Google will need to contact the business owner to confirm the changes that you want to make.
The important thing is to remain adaptable to whatever Google rolls out in the near future. Legacy Places accounts have not yet been transferred to the new Dashboard, and this may be just the first of many changes that will screw with our workflow. My advice is to stay on top of what Google is doing and do your work the way that Google would want it to be done, or risk being left behind.