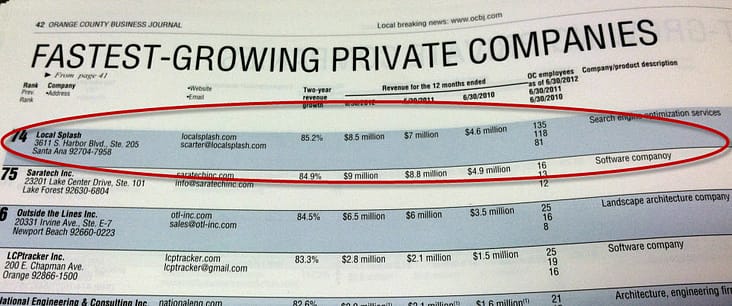 Local Splash was ranked #74 on the Orange County Business Journal's list of 154 fastest-growing companies in Orange County, CA. This year's list, the largest to date, ranks privately-owned companies by revenue growth. Companies had to show at least 15% growth in revenue from June 2011-June 2012 compared to the same period two years ago (June 2009-June 2010) to qualify for the list.
"The companies on this year's list all had to come through the recent recession and post impressive gains during a slow and sometimes spotty recovery," wrote Jerry Sullivan of the Orange County Business Journal in the October 1-7 issue.
Local Splash is honored to be included on the list, surrounded by many other excellent Orange County companies.
"It's an honor to be recognized on a list like this in our local community," said Local Splash CEO, Steve Yeich. "To be part of a fast-growing company is exciting for all of us because it means our hard work is paying off and we are providing a beneficial service to our clients."
For more information, check out the official press release here.